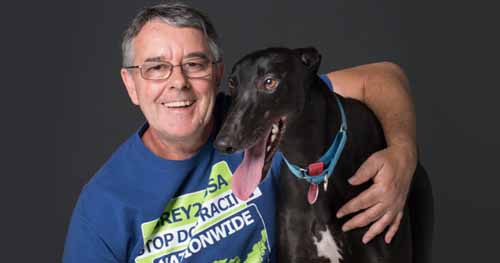 Darren Rigg with his greyhound York
By Darren Rigg, GREY2K USA Worldwide Board Member
I love dogs, especially greyhounds. Caring for them has been my passion for more than three decades. I am motivated to help these dogs by collaborating with people who share the passion, the love of greyhounds, and a belief that each dog deserves a quality home.
My thoughts and feelings about greyhound racing may surprise you. You might assume that I despise all people who are "pro-racing." I don't. I've collaborated with dozens of racing greyhound owners, breeders, kennel operators, track workers, dog haulers and countless adoption organizations. I have yet to encounter anyone who got into the business of greyhound racing with deliberate intention to cause suffering to the dogs. What I have encountered, however, is a collective culture within greyhound racing to accept and normalize the cruel circumstances in which racing dogs live and die.

Greyhound racing may seem like an innocent sport, and greyhounds love to run, right? Not true. Greyhound racing is NOT a sport; it is a for-profit business and the greyhounds themselves are simply commodities. The quality of daily life for each dog is dictated by economies of scale. The dogs are "produced" on farms – yes, greyhound farms where, I suspect, they are treated without much individual nurturing, in other words -- less like dogs, more like cattle. They are often ear-tagged, like cattle. Suffer parasite infestation, like cattle. Are taken to auction, like cattle. Housed in smelly barns, like cattle can be on some farms, and worst of all, many greyhounds have to endure lives of extreme confinement in cages. So no, I am not so much against the actual running of dogs around a track during greyhound racing — as if that is not bad enough; what keeps me awake at night is the thought of all those dogs suffering because of an industry that has normalized cruelty. (And why do we treat cattle "like cattle" - a bigger question for another day!)

Fortunately, public opinion is now turning against the cruelty of betting on the dogs. People who want to gamble have many places from which to choose, and most choose not to frequent dog tracks.

I know for a fact that the greyhound-racing industry within the Western world is in rapid decline. This is largely due to so many motivated dog lovers who are stepping into the political effort to end greyhound racing, as well as to discourage new dog racing in developing nations, and both these efforts are being spearheaded by the amazing, hard-working people at GREY2K USA Worldwide.

Which is the reason I recently joined the board of directors of GREY2K USA Worldwide. I am also still serving on the board of Greyhound Adoption Center. While this is a personal collaboration between me and GREY2K USA Worldwide, I remain 100% dedicated to GAC and will always be mindful to avoid conflicts of interest.